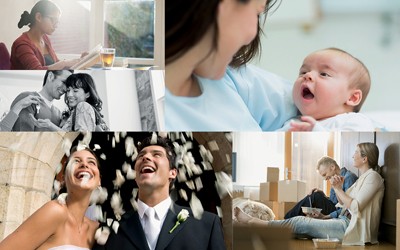 Sometimes we anticipate choices with a sense of excitement. And sometimes life throws us curve balls in the form of unexpected events and important decisions. 
Perhaps you are thinking about a career change or how to achieve a better work/life balance? Maybe you are about to take the plunge into the property market, or choose a school for your child? 
Whatever choices are ahead of you, it's better to be in the driver's seat than just winging it. The more you plan ahead, the better prepared you'll be for the good things in life. 
The cost of raising kids
The cost of raising kids is rising all the time, with one of the biggest costs being education. The cost of raising two children is estimated to be more than $1 million today for higher income families, thanks largely to the cost of private education. The simple act of choosing the right school for your child can involve competing priorities and trade-offs between lifestyle, career, income and family. 
For example, families need to weigh up whether one partner will take time out of the workforce to care for children or work part-time, or whether both parents need to work full-time to afford the school of their choice. 
If money is tight, would you be better off sending the kids to a public school and spending the money saved on extra-curricular activities and family holidays? These financial and lifestyle choices can have far-ranging effects on your child's future and your family's lifestyle. 
Your financial adviser may be able to suggest strategies to help you save for your children's education without sacrificing the good things in life. 
Changing careers and work/life balance
Changing careers can also have a big impact on family life and finances. Will the short-term financial pain of switching to a job with a lower salary, re-training or starting a business lead to better long-term financial prospects? 
And money is not the only issue. The decision to be your own boss or to work from home could also improve your work/life balance and make life less stressful for the entire family. 
Sometimes what appears on the surface to be a purely financial decision can also involve complex trade-offs in other areas of life. Your adviser can help you devise a financial plan to guide you through the transition to a more rewarding work/life balance.
Property choices
Take the decision to buy your first home or upgrade, rent or buy an investment property. Unless you have significant help from your family or an inheritance, you may need to cut back spending on clothes, travel or eating out in order to save a deposit. 
And it doesn't stop there. Once you buy a property you may need to re-arrange your financial priorities in order to repay the mortgage as quickly as possible. The trade-off is the emotional security that comes from owning your own home and having it fully paid off by the time you retire. 
But your home is also a financial asset that can be used to help you get ahead. Once you build up equity in your home you can borrow against it to invest in wealth-creating assets such as investment property or shares. 
Decisions, decisions
When we are faced with life choices it can be a challenge knowing what to consider and where to start, let alone implementing the change. So we've taken four common life events and outlined some things to think about and tips on how to get the help you need. 
A successful life often comes down to the decisions we make – and don't make – along the way. Most people just muddle through, but the more effort we put into making the right decisions when it really counts, the better off we will be. If you would like to start planning some exciting new directions, we are here to help.
---
Important note: While every care has been taken in the preparation of this article, AMP Capital Investors Limited (ABN 59 001 777 591, AFSL 232497) and AMP Capital Funds Management Limited (ABN 15 159 557 721, AFSL 426455) makes no representations or warranties as to the accuracy or completeness of any statement in it including, without limitation, any forecasts. Past performance is not a reliable indicator of future performance. This article has been prepared for the purpose of providing general information, without taking account of any particular investor's objectives, financial situation or needs. An investor should, before making any investment decisions, consider the appropriateness of the information in this article, and seek professional advice, having regard to the investor's objectives, financial situation and needs. This article is solely for the use of the party to whom it is provided.